Wild Witch gives you many opportunities to win, including free spins and the bonus game to entice you. The higher your bet, the fewer bonus symbols you need to trigger the bonus game.


Winning combinations

There are 50 lines in this game. Winnings are paid for the best combination of 3 or more identical symbols. Combinations are counted from left to right, starting from the leftmost reel.


Special symbols

The Wild symbol can drop on any of the reels and replace all other symbols except for the Prize and Scatter.


Free spins

Three Scatter symbols must be present on the screen to trigger free spins. There are three types of free spins in this game:


On the first and fifth reels, and on the second and fourth reels, the same symbols drop, and the reels become mirrored. There are 10 free spins in total.
A single spin is launched that always triggers the bonus game.
Free spins follow the rules of the main game, but a large number of identical symbols drop with each spin. There are 10 free spins in total.

Additional free spins trigger Scatter symbols:


2 Scatters trigger 5 free spins
3 or more Scatters trigger 10 free spins.
Bonus game

If your bet is lower than 2 LTU, there must be 6 bonus symbols on the screen to start the bonus game. If the bet is higher than 2 LTU, then there should be just 5 bonus symbols.



The bonus game consists of 5 re-spins, in which Prize symbols drop. When you start the bonus game, the bonus symbols from the main game remain on the screen.

When 15 bonus symbols appear on the screen, your win is multiplied by the multiplier you selected at the beginning of the bonus game. The player gets 5 more re-spins. During the bonus game, the entire screen can be filled up with Prizes three times, thereby increasing your winnings. At the end of the re-spins, the summarized values of the Prize symbols are paid out.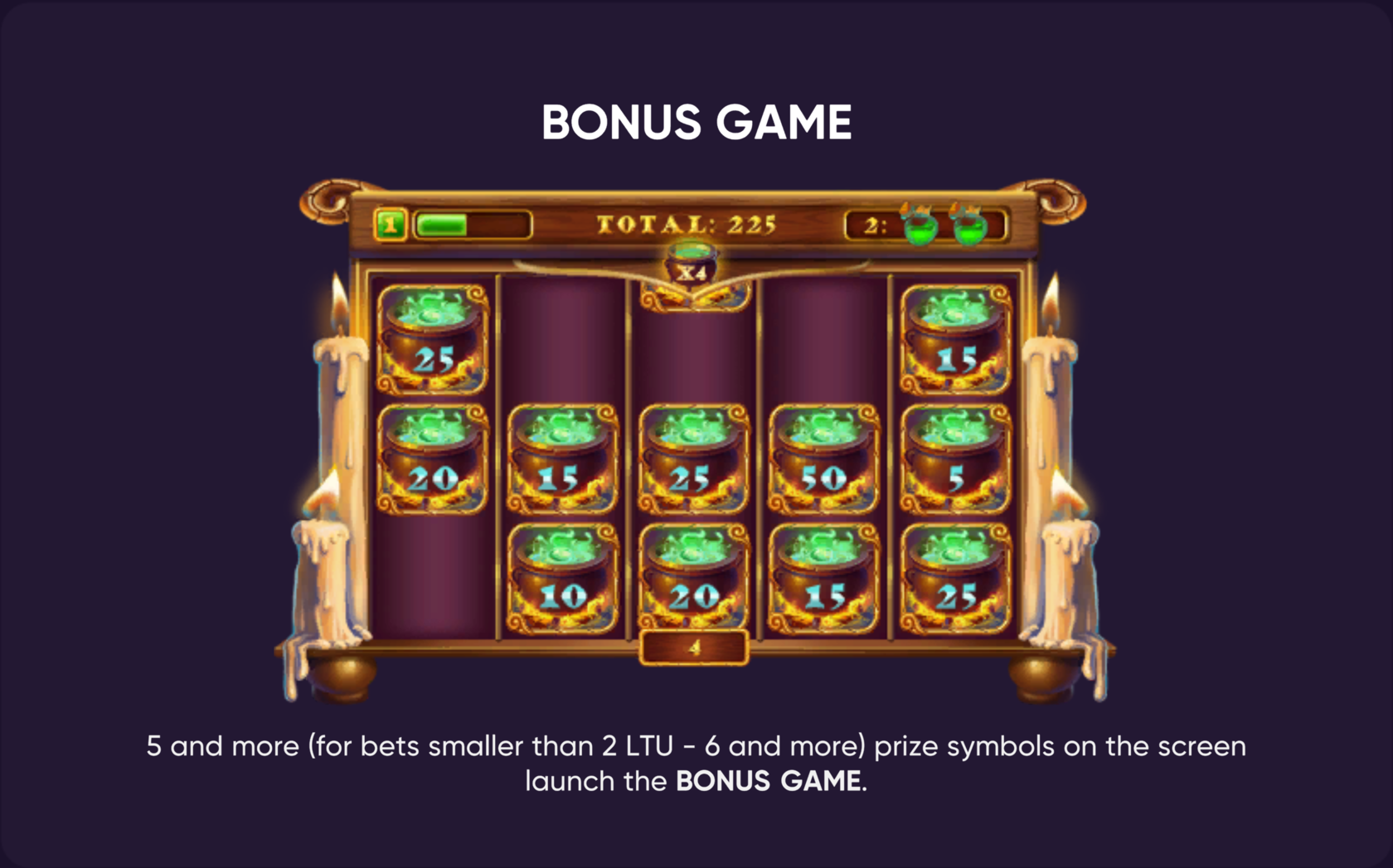 The bonus game can be extended 2 times by using the so-called Life-Saving Potion. If the re-spins are over and the screen has not yet filled with Prizes, pick one of the 5 Potion vials, but remember that one of them contains poison.

The bonus game ends in the following cases:


when the screen has filled up with Prizes three times
when the extra spins are over and the Potion is used, but the screen still hasn't filled up with Prizes
when you picked a vial with poison instead of a Life-Saving Potion.